Merlin.
Arthur/Merlin futuremix in two parts.
The laughter can't last forever. A mix for the darker years of the boys.
ani difranco, au revoir simone, yo la tengo, mirah, the republic tigers, ingrid michaelson, & more.
notes: I've placed the songs in order of pace and rhythm and flow so for best effect, open the songs with the m3u playlist file I've put in both zips.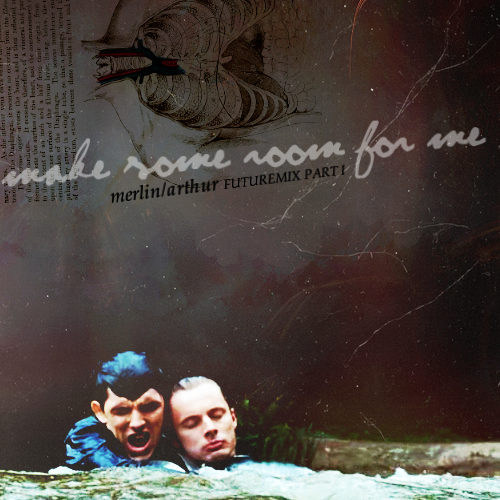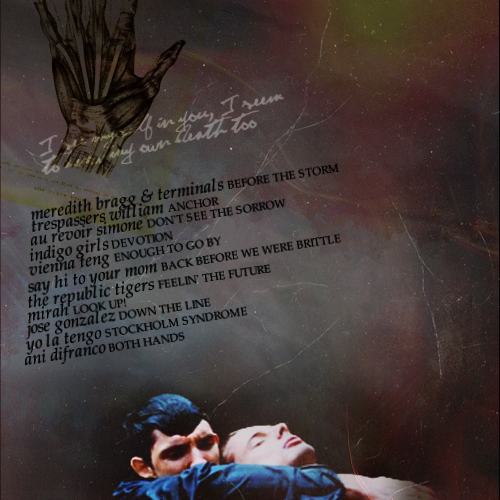 SIDE A
the lighter side of the tragedy, in anticipation of everything that can and might happen.



o1. meredith bragg & the terminals – before the storm
but they don't understand
what makes you the man you are
why you seem so far



o2. trespassers william – anchor
you have dreams awaiting your tired mind
does your heart get weaker
when you think how far we've to go



o3. au revoir simone – don't see the sorrow
I see myself in you
I seem to know my own death too
but here on a day this clear
it's as good a day
to begin
to begin

so you
why won't you make room
some room for me



o4. indigo girls – devotion
just let one day move into two
I'm losing everything except for you
I would sing you a song of devotion
that's what I should do
it's the book of days
it's the way things lay
now that's just space and time
I gave it up all for your love
that's what I should do



o5. vienna teng – enough to go by
it was years ago, god knows
when you strained to tell me your whole truth
that you were not mine to save
that you could not change



o6. say hi to your mom – back before we were brittle
hey, remember when we could save kittens from trees?
or lunch on skyscrapers? Bring the villains to their knees?
maybe we should move someplace new,
and build time machines to go and get us back.
back before we were brittle.

hey, remember when all of time stood still?
and really all you'd need was a peck from her?
maybe we should trade from some physics
or black market spines to go and get us back.



o7. the republic tigers – feelin' the future
for you the future will be grandiose
though they say it's hopeless
you got know I'll be your man,
do whatever I can.
and I seen a future that's not grim,
(Oh!) Since I touched your skin



o8. mirah – look up!
like when i think all the magic is gone
and can't fix it, when it's wrong
in the lights that were gold in the din
caught up in a terrible wind
let's all say look up! Look up!
find what we need
I'll give some to you if you give some to me



o9. josé gonzalés – down the line
I see darkness down the line
I know its hard to fight.
there was a dirt upon your hands
doing the same mistake twice
making the same mistake twice.

come on over
be so caught up its all about compromise.

I see problems down the line
I know that I'm right.

don't let the darkness eat you up



1o. yo la tengo – stockholm syndrome
your heart is broken, and the doors are open
as you're hoping to be
there's brighter places to see
hands need warming, early in the morning
hardly as I've known a surprise



11. ani difranco - both hands
I am watching your chest rise and fall
like the tides of my life and the rest of it all
and your bones have been my bed frame
and your flesh has been my pillow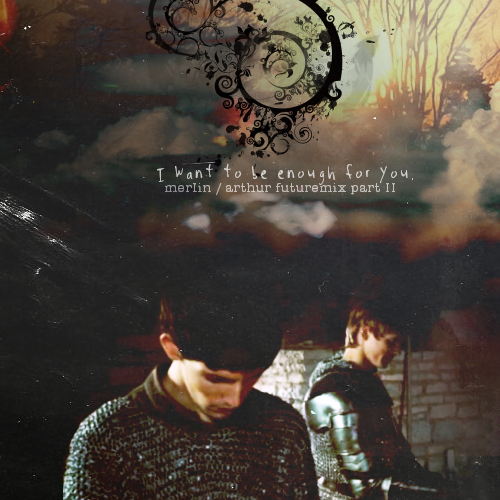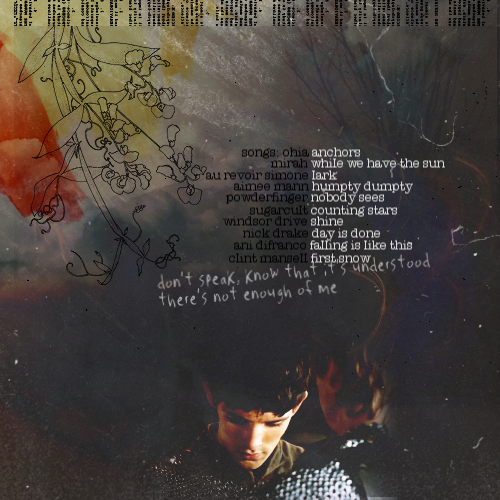 SIDE B
and the other side, because it is inevitable that things fall apart and this is Arthurian legend, after all.

o1. songs: ohia - anchors (one of those uncertain hands)
my bones shall rise up muskettes
my feet are at the threshold
and disaster warms our soil


o2. mirah - while we have the sun
let's take the time to walk together while we have the sun
you never know when temperamental weather's gonna come
and if you want to face the death you're never that far from
just take a breath and sing to it when all the day is done

so sorry about all the sorrow in your life you'll know
it's true that all the ones you love will someday have to go
and everytime you say goodbye you'll hear the trumpets blow
a serenade to the soul, all surrounded by the glow


o3. ingrid michaelson - keep breathing
I want to believe in more than you and me.

but all that I know is I'm breathing.
all I can do is keep breathing.
all we can do is keep breathing now.


o4. au revoir simone - lark
I don't know what you saw there
don't know what you saw in me
sometimes I want to be enough for you
don't ask
know that it's understood
There's not enough of me

I saw that something was broken
I've crossed the line
I'll point you to a better time
a safer place to be


o5. aimee mann - humpty dumpty
baby you're great, you've been more than patient
saying it's not a catastrophe
but I'm not the girl you once put your faith in
just someone who looks like me


o6. windsor drive - shine
look at what we've become,
we were never afraid to run,
from everything we loved to hate,
and it's still the same,

don't stop 'cause there's a way out,
don't cry it's not to far down,
just take my hand and walk the path with me,
you're more than I could ever be,
there's so much left that you don't see,
and I would give anything to see you shine,
just like you used to


o7. powderfingers - nobody sees
who's gonna watch your back?
who's gonna reel you in?
who'll make surprise attacks?
who's gonna be there at the end?

nobody knows just how it feels today
nobody sees how our hearts break


o8. sugarcult - counting stars
all the things I should have said to you.

counting stars wishing I was okay.
crashing down was my biggest mistake.
I never, ever meant to hurt you.
I only did what I had to.

o9. nick drake - day is done
When the game's been fought
Newspapers blow across the court
Lost matches sooner than you would have thought
Now the game's been fought.


1o. ani difranco - falling is like this
like you're trying to fight gravity
on a planet that insists
that love is like falling
and falling is like this

feels like reckless driving when we're talking
it's fun while it lasts, and it's faster than walking
but no one's going to sympathize when we crash
they'll say "you hit what you head for, you get what you ask"
and we'll say we didn't know, we didn't even try
one minute there was road beneath us, the next just sky

I'm sorry I can't help you, I cannot keep you safe
I'm sorry I can't help myself, so don't look at me that way


11. clint mansell - first snow
instrumental


comments help me make it through the days :D