Post-humous and in retrospect, but what the hell.
Featuring: Andrew Bird, Elliott Smith, Deathcab, Tori Amos and more!
The mix is split into two parts. Part one is "battle music", aka the stuff for the strikethrough survivors, the general spirit of the rebellions. It's for anyone and everyone at
innocence_jihad
. Arranged in order of pace, beat and lyrics.
Part two is the chronological order of how the shit when down.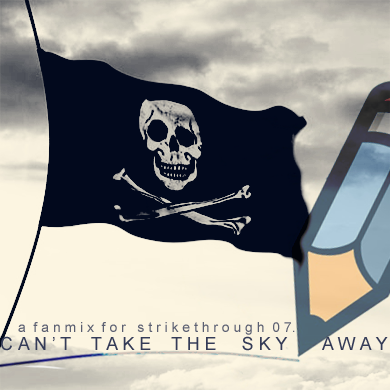 CAN'T TAKE THE SKY AWAY.
and fanmix for strikethrough

part i : see you at the bitter end


ani difranco WILLING TO FIGHT [o1]
tell me who is your boogieman
that's who i will be
you don't have to like me for who i am
but we'll see what you're made of
by what you make of me /.../
i fight fire with words
words are hotter than flames
words are wetter than water

travis PEACE THE FUCK OUT [o2]
now I don't know that your tie is straight
your words are crooked and you're gonna pay
in ten years time they're gonna say
that this was the momment when you threw it away

poe CONTROL [o3]
well you may be king for the moment
but I am a queen understand
and I've got your pawns and your bishops
and castles
all inside the palm of my hand


radiohead TALK SHOW HOST [o4]
you want me?
well fucking come and get me
i'll be waiting
with a gun and pack of sandwiches


the ark THIS PIECE OF POETRY IS MEANT TO DO HARM [o5]
please don't give me no warm reception
what you call peace to me is a call to arms
some are singing to raise affection
but this piece poetry is meant to do harm


james GOVERNMENT WALLS [o6]
break down the goverment walls
speak in tongues, power is money
i see our interests fall
well behind their curtain
break down the government walls
infiltrate our television
break down the government walls
time to be outspoken

...I don't know about you, but I'd rebel to this song and this song alone. Seriously, if you download one, download this one.


ok go INVINSIBLE [o7]
when they finally come to destroy the earth
they'll have to go through you first
i bet they won't be expecting that
when they finally come to destroy the earth
they'll have to deal with you first

Speaks for itself, really, and 6A certainly weren't expecting that. United, angry fans = fucking scariest people you'll ever encounter = the last enemy you'd want on the face of the intarwebs.

placebo THE BITTER END [o8]
you shower me with lullabies
as you're walking away
reminds me that it's killing time
on this fateful day
see you at the bitter end
see you at the bitter end



part ii: a minor no more




wizard of oz DING DONG! THE WITCH IS DEAD [o1]
ding dong, the witch is dead
which old witch?
the wicked witch

Grab your pitch forks, lock up your houses and gather up the firewood! The hunt is on! Welcome to the Salem/USSR/1984 CROSSOVER OF DOOM.

tori amos MR . ZEBRA [o2]
hello mr. zebra
ran into some confusion with a mrs. crocodile
furry mussels marching on
she thinks she's Kaiser Wilhelm
or a civilized syllabub to blow your mind

Well, OK, some confusion is undermining it. It's more like "wtf is going on" confusion. In which Mrs Crocodile = 6A. But that should be an obvious metaphor. Putting the sharp teeh aside and false-concern, what else has a mouth big enough to stuff so many feet in?



panic! at the disco THE ONLY DIFFERENT BETWEEN SUICIDE AND MATRYDOM IS THE PRESS COVERAGE [o3]
and I believe
this may call for a proper introduction, and well
don't you see?
i'm the narrator, and this is just the prologue

the shins KNOW YOUR ONION! [o4]
but when they're parking their cars on your chest
you've still got a view of the summer sky

But among the confusion, fandom bands together, very suddenly and very unexpectedly.

death cab for cutie THE FACE THAT LAUNCHED A THOUSAND SHITS [o5]
things are not so different in my vocal master
you're the face that launched one thousand shits
greeks and trojans and the thousand shits
the shits lining the shores of asia minor
lining all the shores of asia minor
you can tell that I'm not a minor in asia no more
i'm standing up

Greeks and Trojans: all fans in any and every form and shape, from opposite sides of elljay. Shippers? Check. Anti-shippers? Check. Writers, aritsts, lurkers, graphic makers from every corner and every edge of fandom?

Check.


tori amos ANGELS [o6]
with a wink and a smile
you toss your instructions on
how to catch a train while it's moving
you always were the one
that kept us all guessing
how you could survive the fall you had

Oh, LJ. The fans still love you, just not as much now. And definetley not the way you do things nowadays, because you're sliding down the quality slope like a skiier on a 45-degree hill strapped with a propellar. How has 6A screwed you up, you poor beggar.

the shins MINE'S NOT A HIGH HORSE [o7]
after that confrontation
you left me wringing my cold hands
we shared some information
we might not recover from
will i watch your convictions
melt like ice cubes in an ocean?
you were so poorly cast as this malcontent

death cab for cutie FOR WHAT REASON? [o8]
this won't be the last you'll hear from me: it's just the start
/.../ brace yourself: I'm bent with bitterness
we can't foresee

when your apologies fail to ring true
so slick with that sarcastic slew
of phrases like "I thought you knew"
while keeping me in hot pursuit

So Mr CEO apologises. An apology full self-righteousness and condecension in that, with hardly enough meaning. But we're angry and we're united and we're not so easily pleased.

pete yorn POLICIES [o9]
policies drive vacations
don't take the low road
clearly think/clearly see
it's gonna take you over


TOS is changed, journals are promised to be un-deleted, rules are rewritten and done so in the favour of our dear Mr. Barak. But what does the new TOS imply? Does 6A/LJ get to delete whomever they think are threatening? And why the hell did LJ line up with extremists a batshit insane organsation?

elliott smith WOULDN'T MAMA BE PROUD? [1o]
there's a silver lining in the corporate cloud
and the pretty post that you're taking as
as an NCO of the great pretender
i should sure think so


And then. And then the story becomes full circle. 6A is getting IPO, used MFI as a convenient excuse to do a Stalin. So they pressed the bahLEETE button screeching "think of the childreeeeeen!" while counting their future! now-non-existent!$$$.

andrew bird FIERY CRASH [11]
and to save all our lives you've got to envision
the fiery crash
it's just a formality
why must i explain?

The fatal flaw in 6A get-rich-quick plan was that they failed to see the consequences of the sacrifice. Overnight millionaires? Hur hur hur.

sonny rhodes BALLAD OF SERENITY [12]
take me out to the back
tell 'em i ain't coming back
burn the land and boil the sea
but you can't take
the sky from me


The lesson of this little tragedy? Never piss of fandom. As in never piss off fandom, because we can really fuck your shit up.


extras: for shits and giggles.

murder by death DEAD MEN AND SINNERS

Theives and beggars, haul together! Hoist 'em colours!

The obligatory pirates track. Except it's not PotC because as much as I love that song and clip, it's been overused. So you get something that has pirate chanting and cello. Besides,

placebo EVERY YOU EVERY ME
i know i'm selfish, i'm unkind
sucker love i always find
someone to bruise and leave behind

6A/LJ DOMInant-RECCESSIVE OTP FOREVAAAH! This is for the absoluteley wonderful 6/L fic someone wrote in that news post.

margot and the nuclear so so's PAPER KITTEN NIGHTMARE

It has lyrics, but none are needed. Why? Because.


CAT MACROS: IM IN UR COMM LICKIN MAH HARBLS.

and with much thanks to
ladybrighid3333 we now have:
RAR
ZIP


the end.
Thank you and good night! Comments are love.

never shall we die and forever shall we live like pirate!zombies.